Edible PS3 Controller in a Bento Lunch Box
For those of you who have no clue on what a Bento is (neither did I before I begun with this post), a Bento is a traditional Japanese lunch box which consists of many different delicacies, it is home made and is prepared everyday for those who go off to work for the rest of the day. This particular picture from has been picked up from Gotchigirl's profile and it turns out to be quite amusing and delicious at the same time.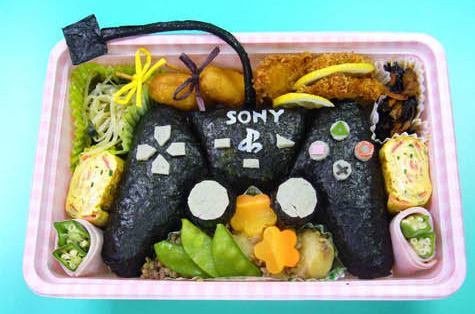 The photograph pictures a traditional Bento lunch box but added to it is a little twist of gaming, the centre of the lunch box and the centre of attraction in the lunch box is the huge Edible PS3 Controller, probably made out of Rice wrapped with Sea Weed (a popular delicacy among the far east).
Since the traditional Bento is full of various delicious food items like rice, fish, meat, vegetables, pickles etc., we can say that there are very creative people out there who do not want to waste their talent anywhere and decide to take up the tedious task of preparing themselves such an arty, gaming oriented, and fun filled lunch box very morning and everyday, that they keep forgetting the fact that there are Mc Donald's, Burger King, KFC and others that might go out of business pretty soon, all because they do not have any gaming meals on their menu.
For other cool controller mods which are not as tasty or edible at all, check out the Tupperware PS3 Controller Mod or the new PS3 Dual Shock Controller Design.