PlayStation Vita Getting Hulu Plus, Redbox Instant, and Crunchyroll Apps
Sony is giving folks more awesome reason to spend time with their PS Vitas with the crop of new apps now available for the portable device.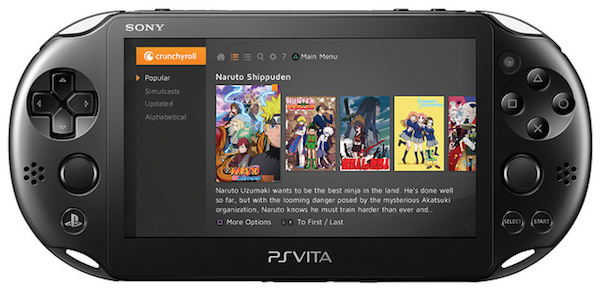 More streaming video content is heading straight to the PlayStation Vita as of Tuesday. Sony just informed its fans via the PlayStation Blog that the handheld would be receiving new streaming apps that can be downloaded from the PS Vita's app section on the PlayStation Store.
The fantastic selection below now joins the roster of stellar PS Vita app such as Crackle, Facebook, Flickr, NBA Game Time, Netflix, Skype, TuneIn Radio, YouTube, and tons more. So, check out the new list of streaming apps available now for the PlayStation Vita – happy watching!
Crunchyroll — Watch the latest and best selection of Anime from Japan, including Naruto Shippuden, Attack on Titan, Kill la Kill, Hunter × Hunter and many more, as early as one hour after Japanese broadcast.
NHL GameCenter LIVE — Instantly stream live out-of-market games in HD quality with your NHL GameCenter LIVE subscription.
Qello Concerts — You can now watch your favorite artist's full-length performances in HD whenever and wherever you want. Qello Concerts streams the largest collection of HD concerts and music documentaries right to your PS Vita, including popular artists such as Coldplay, Linkin Park, Nirvana, Bob Marley, Beyonce, and so much more. With Qello Concerts, the concert never ends!
Gaiam TV — From energizing yoga and fitness classes to inspiring documentaries and cutting-edge programs, Gaiam TV takes you beyond the boundaries of mainstream media to reveal new perspectives for our changing world.
Hulu Plus — Hulu Plus offers unlimited instant streaming of current hit shows like Family Guy, The Simpsons, Modern Family and Brooklyn Nine-Nine as well as original series including The Awesomes and The Wrong Mans for $7.99/month with limited advertising. (Available March 25)
Redbox Instant by Verizon — Redbox Instant by Verizon is offering new subscribers a free month of movies. Subscribers can stream from a library of Hollywood hits on PS Vita and receive four DVD or Blu-ray rental nights every month for new releases at the Redbox kiosk. You can also purchase or rent the latest movies on demand in the digital store. (Available March 25)
Be social! Follow Ps3 Maven on Facebook and Twitter, and read more related stories at https://www.facebook.com/PS3Maven and https://twitter.com/ps3maven.