PlayStation Network Releases: July 19 – Limbo & Borderlands Bundle
Time to round up what's coming out on the PlayStation Network this week  — featuring the indie hit Limbo and a Borderlands bundle that is too good to pass up.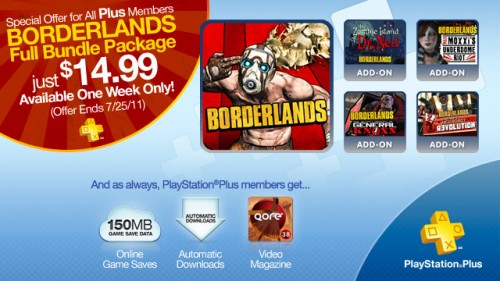 If there's one thing you can't on being apart of the Sony gaming brand its great savings galore. And this week for PlayStation Plus subscribers you get the chance to play one of the best game of 2009, Borderlands, for 75% off the original price, now only $14.99.
The spectacular deal lasts till August 1st, and includes the full Game of the Year edition and all four Add-Ons packs (which are also available for 50% off with or without PlayStation Plus membership) — and again, cheaper than anywhere else with the hassle-free benefits of digital distribution. What an age I tells you!
Lastly, making its debut on the PlayStation Store is the oddly beautiful puzzle-platformer Limbo, which was earlier introduced in a pre-view write up here on PS3maven. If you're looking for something out of the ordinary, something that takes you on an imaginative ride — Limbo is your game.
– PlayStation 3 –

Updates
Bioshock 2 Exclusive Characters – Sale (PS3) (now $0.99, original price $1.99)
Bioshock 2 Minerva's Den – Sale (PS3) (now $4.99, original price $9.99)
Bioshock 2 Protector Trials – Sale (PS3) (now $2.49, original price $4.99)
Bioshock 2 Rapture Metro – Sale (PS3) (now $4.99, original price $9.99)
Bioshock 2 Sinclair Solutions Tester Pack – Sale (PS3) (now $2.49, original price $4.99)
Borderlands – Sale (PS3) (now $14.99, original price $29.99)
Borderlands New Revolution – Sale (PS3) (now $4.99, original price $9.99)
Borderlands Secret Armory – Sale (PS3) (now $4.99, original price $9.99)
Borderlands The Underdome – Sale (PS3) (now $4.99, original price $9.99)
Borderlands Zombie Island – Sale (PS3) (now $4.99, original price $9.99)
Mafia II – The Betrayal Of Jimmy – Sale (PS3) (now $4.99, original price $9.99)
Mafia II – Greaser Pack – Sale (PS3) (now $1.49, original price $2.99)
Mafia II – Jimmy's Vendetta – Sale (PS3) (now $4.99, original price $9.99)
Mafia II – Joe's Adventure – Sale (PS3) (now $4.99, original price $9.99)
Mafia II – Renegade Pack – Sale (PS3) (now $1.49, original price $2.99)
Mafia II – Vegas Pack – Sale (PS3) (now $1.49, original price $2.99)
Mafia II – War Hero Pack – Sale (PS3) (now $1.49, original price $2.99)
Cuboid – Sale (PS3) (now $4.99, original price $9.99)
Interpol: The Trail Of Dr. Chaos – Sale (PS3) (now $4.99, original price $9.99)
Magic Orbz – Sale (PS3) (now $4.99, original price $9.99)
Mahjong Tales: Ancient Wisdom – Sale (PS3) (now $4.99, original price $9.99)
Sky Fighter – Sale (PS3) (now $4.99, original price $9.99)
Smash Cars – Sale (PS3) (now $7.49, original price $14.99)
Wakeboarding HD – Sale (PS3) (now $4.99, original price $9.99)
Hamsterball – Sale (PS3) (now $4.99, original price $9.99)
Ricochet HD – Sale (PS3) (now $4.99, original price $9.99)
Wackylands Boss – Minis – Sale (PS3/PSP) (now $2.99, original price $4.99)
Battlefield: Bad Company 2 Onslaught/Battlefield 1943 Bundle – Price Change (PS3) (now $12.99, original price $19.99)
Pool Hall Pro – Price Change (PSP) (now $3.99, original price $9.99)
Games
Limbo ($14.99)
Fast Draw Showdown ($9.99)
Dead Block ($9.99)
Baseball Stars 2 ($8.99) B
The King of Fighters '95 ($8.99)
Demos
Dead Block Demo
Limbo Demo
PSone Imports
Add-ons
Fallout: New Vegas – Old World Blues ($9.99)
Dead Block – More Dead To Block Map Pack ($2.99)
Bulletstorm Blood Symphony DLC Pack ($9.99)
Mortal Kombat Warrior Rain ($4.99)
Mortal Kombat – Compatibility Pack 3 Featuring Klassic Skins (Free)
Wizardry: Labyrinth of Lost Souls Additional Scenario The Red Shadow Of The Sister ($7.99)
MotorStorm Apocalypse King of Diamonds Event Pack (Free)
ModNation Racers Medieval Mini Theme ($6.99)
Transformers 3: Dark Of The Moon – Sideswipe ($0.99)
"(pin)Ballz" – Insomniac Games ($0.99)
"Alaska" – Between the Buried and Me ($1.99)
"Find Beauty" – Rose of Jericho ($1.99)
"Sick, Sick, Sick" – Bayside ($1.99)
"Too Little Too Late" – A Skylit Drive ($1.99)
Bundles
Borderlands Full Bundle ($19.99)
Bioshock 2 – Add-On Bundle ($10.99)
Mafia II – Add-On Bundle ($14.49)
PS3 Themes
Fast Draw Showdown Dynamic Theme ($2.99)
Dead Block Dynamic Theme ($2.99)
Brain Freeze Dynamic Theme ($2.99)
Shark Attack Dynamic Theme ($2.99)
Circles Of Confusion Dynamic Theme ($2.99)
PlayStation Plus
Featured Games & DLC
Guerilla War minis (Free with Plus, a $2.99 value)
Discounted Games
Borderlands Full Bundle (PlayStation Plus price $14.99 – a $60 value)
Limbo (PlayStation Plus price $11.99; a 20% discount)
Cuboid (PlayStation Plus price $3.99; a 20% discount)
Interpol: The Trail of Dr. Chaos (PlayStation Plus price $3.99; a 20% discount)
Magic Orbz (PlayStation Plus price $3.99; a 20% discount)
Sky Fighters (PlayStation Plus price $3.99; a 20% discount)
Smash Cars (PlayStation Plus price $5.99; a 20% discount)
Wakeboarding HD (PlayStation Plus price $3.99; a 20% discount)
Hamsterball (PlayStation Plus price $3.99; a 20% discount)
Richochet HD (PlayStation Plus price $3.99; a 20% discount)
Baseball Stars 2 (PlayStation Plus price $7.19; a 20% discount)
Baseball Stars 2 PSP (PlayStation Plus price $5.59; a 20% discount)
The King of Fighters '95 (PlayStation Plus price $7.19; a 20% discount)
The King of Fighters '95 PSP (PlayStation Plus price $5.59; a 20% discount)
Athena minis (PlayStation Plus price $2.39; a 20% discount)
HAL 21 minis (PlayStation Plus price $2.39; a 20% discount)
Ikari Warriors minis (PlayStation Plus price $2.39; a 20% discount)
Marvin's Maze minis (PlayStation Plus price $2.39; a 20% discount)
Ozma Wars minis (PlayStation Plus price $2.39; a 20% discount)
Sasuke vs. Commander minis (PlayStation Plus price $2.39; a 20% discount)
Vanguard minis (PlayStation Plus price $2.39; a 20% discount)
Featured Themes
Fast Draw Showdown Dynamic Theme (Free with Plus, a $2.99 value)
Amazing Earth: Volcano Dynamic Theme (PlayStation Plus price $0.90; a 70% discount)
Apache Gunship Dynamic Theme (PlayStation Plus price $0.90; a 70% discount)
Divine Light Dynamic Theme (PlayStation Plus price $0.90; a 70% discount)
Destination: Japanese Temple Dynamic Theme (PlayStation Plus price $0.90; a 70% discount)
– PlayStation Portable –
Games
Final Fantasy Tactics: The War Of The Lions ($9.99)
Baseball Stars 2 PSP ($6.99)
The King Of Fighters '95 PSP ($6.99)
Add-on Game Content
DISSIDIA 012[duodecim] FINAL FANTASY Bartz: Dancer ($0.99)
DISSIDIA 012[duodecim] FINAL FANTASY FFV BGM Pack 3 Tracks ($0.99)
DISSIDIA 012[duodecim] FINAL FANTASY FFVI BGM Pack 3 Tracks ($0.99)
DISSIDIA 012[duodecim] FINAL FANTASY FFXI BGM Pack 3 Tracks ($0.99)
DISSIDIA 012[duodecim] FINAL FANTASY Shantotto: Wedding Dress ($0.99)
DISSIDIA 012[duodecim] FINAL FANTASY Terra: Striped Dress ($0.99)
PSP minis
Angry Birds ($3.99)
Athena ($2.99)
Guerrilla War ($2.99)
HAL 21 ($2.99)
Ikari Warriors ($2.99)
Marvin's Maze ($2.99)
Me Monstar: Hear Me Roar ($4.99)
Ozma Wars ($2.99)
Sasuke Vs. Commander ($2.99)
Vanguard ($2.99)
Via: PlayStation Blog