Roll7's OlliOlli Skates Onto The PlayStation Vita
It's not skate or die, it's skate and buy! OlliOlli, that is. The latest release for the PlayStation Vita that will scratch your skateboarding, trick-comboing itch.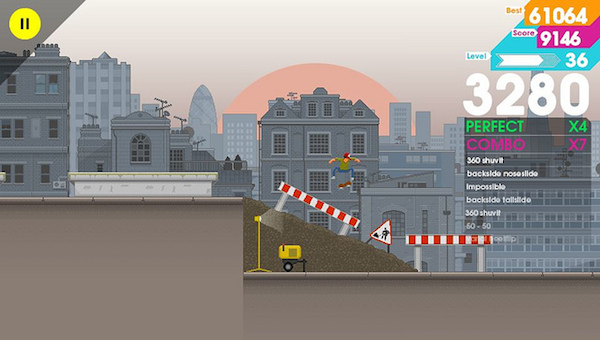 Remember when those Tony Hawk Pro Skater games were all the rage? The fusion of addictive score chasing and punk rock tunes? Well Indie developer Roll7 does, and it's the main thrill to OlliOlli, a 2D skateboarding game that brings back all those radical times to the portable scene via the PlayStation Vita.
In fact, OlliOlli was made just for Sony's handheld, which might be bad thing if you're prone to throwing any objects in your hand out of frustration. While the game's pixel-drawn graphics might appear friendly to the eyes, OlliOlli's 50 downhill courses have a nasty difficulty curve that require precise timing and skill over 120 real tricks to stay on your board.
Because if you don't, it's back to the beginning of the level. Bogus, yes. But with the perfect amount of "Oh my god, I can do this – I know I can!" feel that will have you snake bitten instantly. Thankfully OlliOlli has online leaderboards so you won't be alone in your trick-mastering, score-wracking pursuit. Just remember that in your fit of rage, you're holding on to a handheld and not a controller. Your Vita will thank me.
VIDEO TO ADD [http://www.youtube.com/watch?v=o9RqtCk7YYo]
Right now you can find OlliOlli on the PlayStation Network for $12.99 – $9.99 for PlayStation Plus subscribers!
Keep it chill and hang around Ps3 Maven for more PlayStation news, like what's new for PlayStation Plus members, and a bug going around certain PlayStation 4s that corrupt save files.