March Instant Game Collection Features Dead Nation & Tomb Raider
With a new month in tow, Sony brings zombies, the raiding of tombs, and much more for PlayStation Plus members.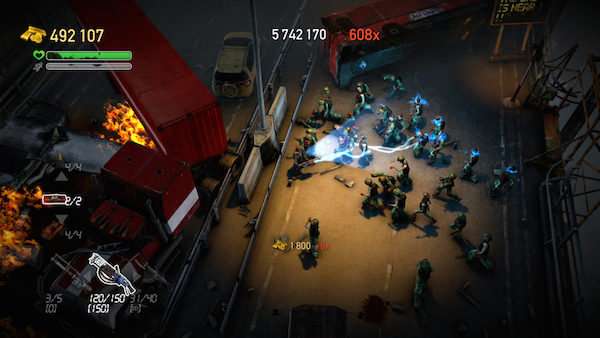 Sony welcomes March, like they do any other month, with a sunny new slate of games for their Instant Game Collection. This month PlayStation Plus members on the PlayStation 4 can look forward to Dead Nation: Apocalypse Edition, a spruced up version of Housemarque's zombie-hunting twin-stick shooter from the PlayStation 3.
The Apocalypse Edition for the PS4 now runs the game at 1080p with better textures and effects. There's also the bonus content from the Road of Devastation DLC to look have fun with, but the most interesting addition comes with a unique broadcast mode where Dead Nation livestream viewers can vote on the difficulty for the player they're watching.
Moving on to the PlayStation 3 offerings for PlayStation Plus, March also sees one of the best games of 2013, Tomb Raider, to the Instant Game Collection. This title was a surprising revival for seasoned video game heroine Lara Croft, both in redefining the lead and game play with survival elements where Ms. Croft uses scavenging skills to hunt for food and treasure.
VIDEO TO ADD[https://www.youtube.com/watch?v=_fSft3JCM78]
That's not all for the PS3 though, there's also indie darling Thomas Was Alone – totally recommended if you're looking for an emotional gripping tale about blocks – and Lone Survivor: Director's Cut, a 2D adventure survival title, to download. Each one is a cross-buy purchase too, meaning that you'll also get their PlayStation Vita versions for free once you swap them up.
While we're talking about the PlayStation Vita, March also has in store two free titles for the handheld with the mission-based shooter, Unit 13, and Monster Hunter: Freedom Unite. The latter I hear is an immensely popular action role-playing game in Japan, which involves hunting giant monsters and then using their leftovers for crafting weapons and armor.
If you missed February's list of Instant Game Collection titles as a part of PlayStation Plus, we've got them right here on Ps3 Maven. Hurry up and check them out before they leave the service for good.
Be social! Follow Ps3 Maven on Facebook and Twitter, and read more related stories at https://www.facebook.com/PS3Maven and https://twitter.com/ps3maven.