Guitar Hero Aerosmith Game and Guitar Controllers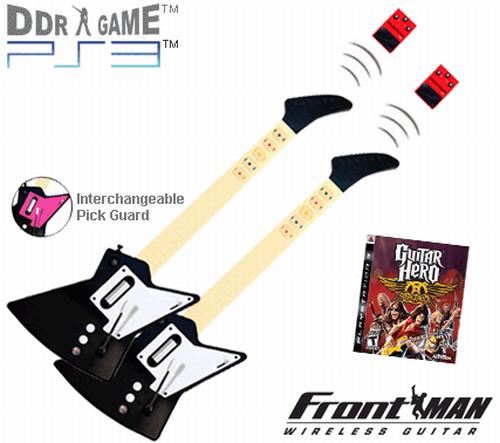 Aerosmith fans have had it all so easy, laid it out for them on a silver platter. They have a large discography to buy, memorabilia to adorn their rooms with and a fan base that spans continents to network amongst themselves, and now, if they liked the Guitar Hero: Aerosmith game, there is even a great combo pack to buy. The combo comes with a Guitar Hero Aerosmith Guitar Game for PS3 and also 2 c Nyko Frontman Black Wireless Guitar Controller. The combined package costs just $175.99 after a heavy discount.
If you already didn't know, the Guitar Hero: Aerosmith comes with some amazing collection of songs by the aging and some of the hottest opening tracks by bands like Cheap Trick, Joan Jett and many more. You could experience the journey of Aerosmith right from their first concert at the Nipmuc High School. As you progress through the game, you will witness many secrets and untold moments of joy and pain the band had to go through to reach their Grammy winning peak.
The Nyko Controller which comes with the package is quite cool too, and is even compatible with Rock Band and has enough features to make you feel like you are playing at an Aerosmith concert on the stage! If you are not satisfied with this package, you must also try the Metallica Guitar Hero which would appeal to the heavy metal fans. If it is just the controller you are looking for, Warbeast Guitar Controller isn't a bad idea either!