New 'Asura's Wrath' Videos — Insane And Full Of Action
Get a quick two video look at Capcom & CyberConnect2's next totally original, and totally full of rage, action game coming in February 2012.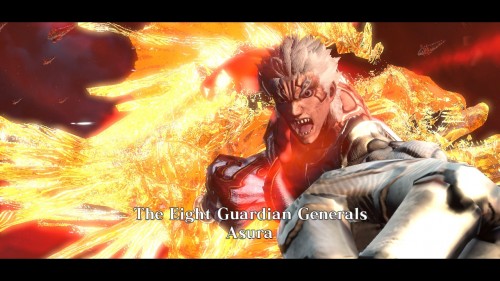 Asura's Wrath. The title alone isn't just some cheap PR gimmick to grab some buzz (although it does have a nice bite to it, right?), it's what this upcoming co-produced between Capcom and CyberConnect2 game advertises this action-adventure romp to be: one-hundred percent unfiltered insanity, the likes of which reach unbelievable proportions, as you take on the role of a fallen deity who must seek revenge from the other gods who betrayed him by kicking the living snot out of them with pure vengeance.
Just believe me – once you see video of Asura's Wrath in motion, or heck any footage for that matter, you'll feel just as I do. In fact, not too long ago new video of the game popped up over the Internet, making this the perfect opportunity to check out Asura's Wrath's fierce gameplay in advance of it's February 21, 2012 release in North America. Lots of videos I should add — well, just two actually — one showing off a bit of the back-story, and the other a preview of the fighting system which is full on madness.  Madness, I say!
Asura's Wrath Story Digest – Betrayed
Asura's Wrath Gameplay – Asura Awakens
On the way to retailers this November 15th is a new PlayStation Move Bundle featuring LittleBigPlanet 2, which is certainly at the other end of the spectrum when compared to Asura's Wrath. But then again, nothing really comes close to matching it's awesomeness — not even this Uncharted 3 commercial starring Harrison Ford. A close, but distant second.
Via: Capcom Unity