Sony Introduces HMZ-T1 Personal 3D Viewer, Available November In Japan
Is Sony's latest consumer tech venture, available in Japan this November, the future of 3D and possibly gaming?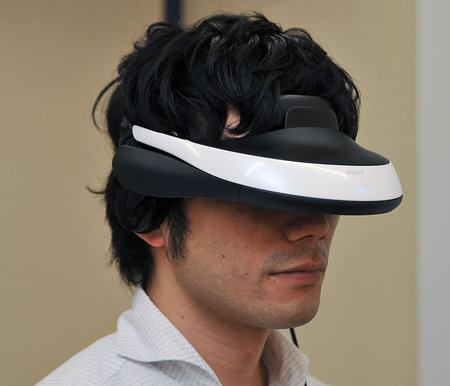 Out of a cyber-punk movie from the '80s, it's Sony's next efforts in the realm of 3D. And it comes in the uncanny form of a head-mounted device called the HMZ-T1. The company has been on a 3D development kick for a couple of years now, incorporating it into their Bravia TVs and likewise, the PlayStation 3 ecosystem.
Whether you agree or not with technology – heck certainly a good portion of people have trouble viewing the extra dimension – it's certainly interesting the amount of progress Sony has made in field advancements, including a special 3D-enabled television, in conjunction with a PlayStation3, which can allow two players to see separate screens during multiplayer sessions, all by the use of 3D glasses.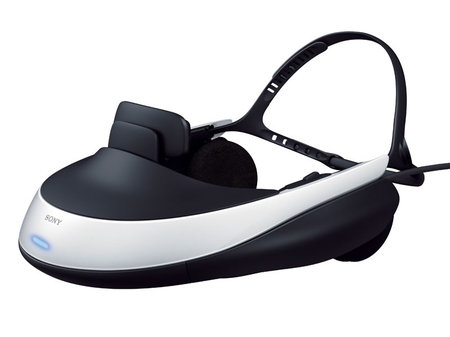 Meanwhile with the HMZ-T1, an odd futuristic-looking accessory that would probably fit nicely in the Blade Runner world, surrounds both of a person's eyes with two 1280×720, 0.7-inch OLED screens (the same type of screen tech used in the PlayStation Vita.) So, when ever content is viewed through the miniature displays at once it creates for the viewer an incredible 750-inch screen in 3D that appears 20 meters away.
Basically imagine a picture quality so sharp, so clear – that your eyes would probably disintegrate from the sheer beauty. Add to that a 5.1 surround sound from headphones integrated into the head-set and it's possible the experience one would feel, while watching a movie or playing a game, like nothing else. Too bad you'll need some serious cash flow to afford one.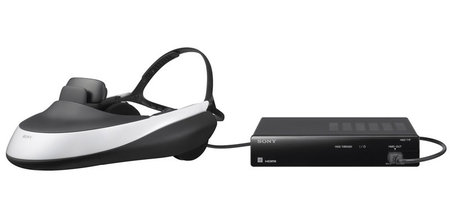 The HMZ-T1, with an HDMI input & output processor unit that must remain connected to the head-display at all times to work, costs a whopping 60,000 yen — converted into US dollars, that's $783. Whoa, boy. I don't expect many picking up the HMZ-T1 if it ever arrives stateside, right now it only has a November 11th release in Japan, but from what garner, neither is Sony. Who I'm sure of are willing to take a financial hit in the interest of technological advancement.
Via: Newlaunches