Meet the Official Shoe of Madden 11
Are you ready for this? OK, take a deep breath…Nike and EA Sports, the makers of the popular Madden NFL series, have collaborated to create the Nike x EA Sports "Madden 11" Air Trainer 1.2. The name is almost as hard to say as the shoe will be to find, thanks to its very limited run of 500.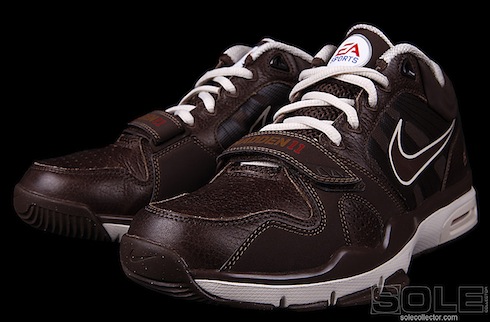 That's right. EA and Nike release a Madden-branded shoe and plan to release only 500 pairs at "select retailers." 500 pairs? I think my girlfriend has more shoes than that! Are the folks at EA and Nike just holding a betting pool in order to see how much these babies go for on EA within the first month? OK. Maybe that was a bit harsh, but 500 isn't a lot for a full run of Nike shoes. Most of us will never see it. In fact, most of us will never know someone who knows someone who met someone who said they saw these.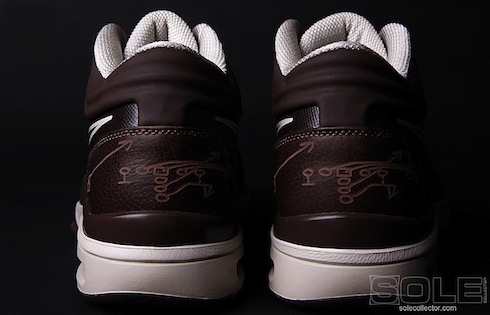 As far as the shoe itself goes, it's made of brown pebbled leather, like a football. It says that most of the upper consists of nubuck and synthetic materials, and the accents–the Swoosh border, the laces and midsole–are white.
The EA Sports emblem is on the tongue, along with with the Madden 11 logo on the footstrap. As if that's not enough the shoe also has a touchdown-scoring play from Super Bowl XLIV lasered into the heel. Finally, the pre-game chant that Drew Brees of the Saints (who was named MVP of Super Bowl XLIV, and the cover athlete of the upcoming game) leads his team in before each game is etched into the sock liner.
No wonder there are only 500 of them going out, they sound expensive anyway. Still, this is the way into any Madden fan's heart. There is no doubt in our minds that these shoes will be priced far above what the average consumer is willing to pay, but it may be the perfect gift for that gamer dad in the home. Sadly, these aren't the kind of shoes you'd want to wear, even if you did have them. If that's the case, then what's the use? Ebay baby!
Still, those shoes may be fancy, but they aren't nearly as cool as this Metal Gear Solid sneaker DIY job.
Madden 11 is available across all the major gaming platforms.
Via: Sole Collector