Limited Edition 24K Gold Covered PS3 Consoles
If you were to question yourself how much you love your PS3, you would certainly not be able to measure it in a coherent way. In fact, genuine love can never be measured but only expressed.
With that being the case, would you go ahead and dip your PS3 console in 24k gold to show the world that the PS3 is a golden console?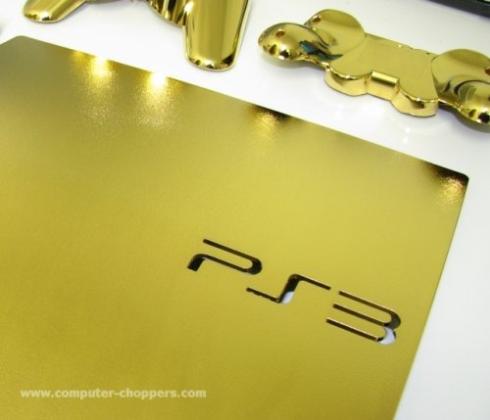 Well, Computer Choppers have created this amazing limited edition golden PS3 which comes covered in 24k gold. Only 5 of these beauties would be available making them really exclusive. There is also no information about the limited edition golden console but you could rest assured that would also be one of the most expensive consoles you could ever buy.
If you ever get to buy this, you would need to be careful your guests do not walk away with it, as the temptations might be too hard to resist. The strangest part is that it is not just the console that comes covered in gold but also the controller which makes it a really golden opportunity to cease, if you think you have the money to afford something like this.
For other cool PS3 creations, check out the huge list of PS3 Mods or the most amazing Playstation 3 Designs.
Computer Choppers Via: Walyou