Watch The 15 Minute BioShock Infinite Demo
Please stop what you're doing and spare 15 minutes to see an early preview of one of best games shown at this years E3, BioShock Infinite. You'll thank me later!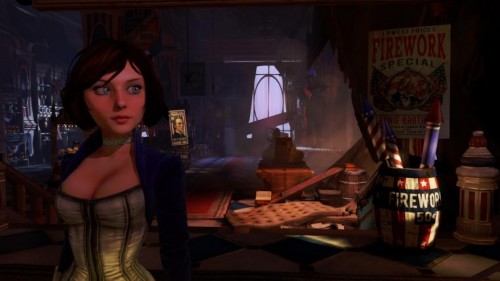 BioShock Infinite. Just take the "Shock" part out of the title and then immediately add the words "and awe." With that clever word play, you'll perfectly describe the overall impression of the BioShock Infinite E3 2011 demo which hit national TV last Thursday night during GameTrailers TV.
Remember folks, this was the very same E3 demo which "shock"ed many a gaming journalist who attended the Los Angeles' event back in June. And even more "Shock"-ing (I'll stop, promise,) was only shown behind closed doors – leaving much speculation over its greatness strictly to the realm of unicorns and chupacabras.
That is until now… and after a couple of commercial messages, oh and then at the 4:30 minute mark in the GameTrailers TV provided video below. Yes, yes – not ideally the best viewing option, but it's totally worth it to get a 10 minute plus preview of what many gaming-related websites proclaimed as the Best Game of E3 2011.
Update: Thank you gaming gods, I found a YouTube link with the exact footage that was shown on Thursday night's GameTrailers TV! Yay!
It's not required in any means, but I would also immensely recommend tracking down the full GameTrailers TV program (episode 413) to check out the interview between show host Geoff Keighly and BioShock Infinite lead designer & head honcho of Irrational Games, Ken Levine. It's an absolute great one — and heck — you've already spent almost half an hour watching a video of game that won't be out till 2012. What's another full hour gonna hurt? Nothing, that's what!
Now no excuses — do that and then report back here to check out other splendid game trailers, like the Tomb Raider demo that also made an appearance at this years E3.